HISTORICAL INTERPRETER(S)
Solo or Duo available
presenting a specific historical period,
wearing appropriate clothes,
playing period music on suitable instruments

so enabling visitors to learn more through a combination of all elements of the presentation, including perhaps unspoken ones such as accessories with the clothes, the technology of the instruments, and many others.
1st Person Interpretation:

" As it is the year 1546, these are my clothes;
it is said the King is ill, but none may dare talk too loud of the matter." etc.



3rd Person Interpretation:

" In the year 1546, these were the clothes I would be wearing, and while there rumours that Henry VIII was ill, it was illegal to discuss the King's health."etc.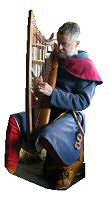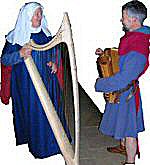 I offer solo work, or duo with my wife Elizabeth York.
Where have I/we worked?
among others...
The V&A Museum,
"TimeTeam" with More4 Television
The Tower of London,
with English Heritage
(many sites),
The City of London Corporation:
Queen Elizabeth Hunting Lodge,
Ayscoughfee Hall Spalding,
Kettering Museum,
Luton Museum,
St. Mary's Hall Coventry
Blackden Trust,
Epping Forest District Museum,
Maidstone Museum,
agency work too

The British Museum,
The London Guildhall
The National Trust
(various sites again),
Bede's World in Jarrow,
Blakesley Hall Birmingham,
Nuneaton Museum,
Shibden Hall,
St. Albans Museum
Chester Grosvenor Museum,
Northampton Museum,
Syon Park,
and a host of others;
- Griffin Historical, EventPlan... .

The Japanese trip which was SO nearly...
Will Adams from Gillingham sailed in 1600 to Japan. After nearly dying as a suspected pirate, he ended as the only English Samurai, and built naval European style ships there. In 1613 a trading post was set up, and Will Adams' name is still well-known in Japan.
I was spotted during my 2012 work at Gillingham's Will Adams Festival by a representative from Japan, and with Elizabeth York was invited to go and work in Japan in 2013.
What a pity it costs around £7000 to fly a collection of instruments safely across the world! Can't really blame their budget for not reaching that, but it was great to be invited.
So that's why we nearly worked in Japan!

Why have Solo or Duo?
the duo is able to offer more variety of musical sounds and arrangements.


I play many instruments, but Elizabeth adds more: she specialises in harps, ranging from tiny medieval to her 1833 pedal harp,

she also adds her singing voice, which is far better than mine!



You may have dancing for participants incorporated into the work - space etc. allowing - whether it's a solo or duo presentation, but it's always easier with two of us


Cost may be a factor


Operating space may be a factor


What can I/we offer?
A professional and friendly approach


Unusually good presentation skills, and much experience


An unreasonably large collection of instruments, representing music across many periods,


the ability to play music of the right period on all of them

some for hands-on use by participants



attractive arrangements of pieces we play


techniques to allow participants to join in making make very pleasing and satisfying music


Entertaining and well-informed explanations of how the instruments work, how they fit into society,
and other relevant snippets of information.


willingness to work with other performers and co-operate creatively with them



For Victorian work, the utterly astonishing Major Horton...
If you have failed to do so, you dashed well need to visit me and find out who I am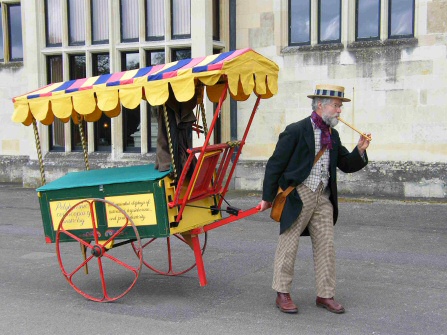 Is this the world's only 3-hole pipe and handcart combination?
Thanks to Tom at E.H. Audley End for taking the shot!