Recorders take both hands to play them. The only problem is that two handed players can't normally play anything else at the same time. Well, you could play the foot bells, but I did say normally.
SO devising the three holed pipe which can be played in one hand, like this...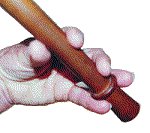 ...means that the other hand is free to play the tabor, which is simply the word meaning drum. Like this: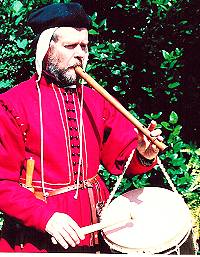 The trick is to blow the pipe harder or softer to make higher or lower notes. This is called "overblowing." Most 3 holed pipes will produce about 12 or so useful notes this way. You can experiment by sticking sticky tape over some of the holes of a PLASTIC recorder to try the effect.
DO NOT TRY THIS WITH WOODEN RECORDERS!! IT SPOILS THE RECORDER, AND SO CAN LEAD TO DAMAGE TO THE PERSON DOING THE EXPERIMENT WHEN THE RECORDER'S OWNER FINDS OUT!